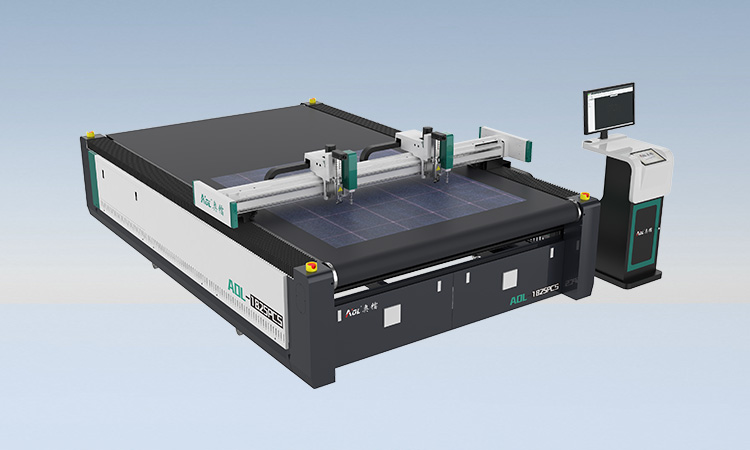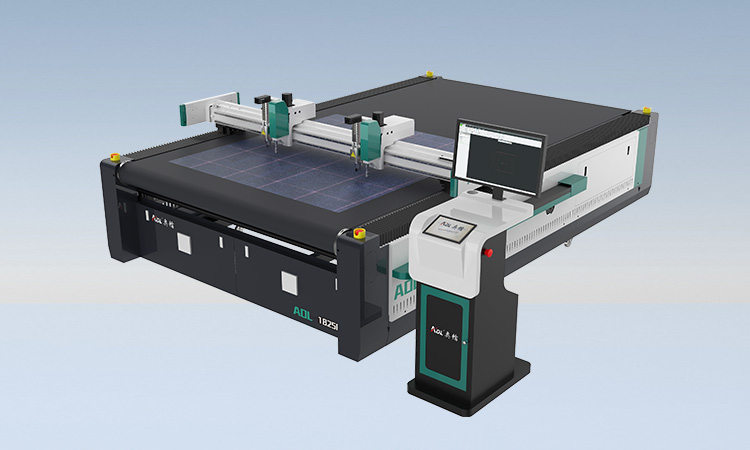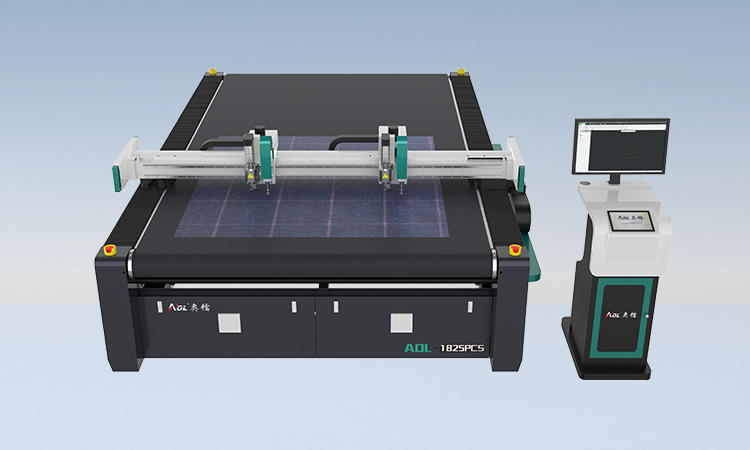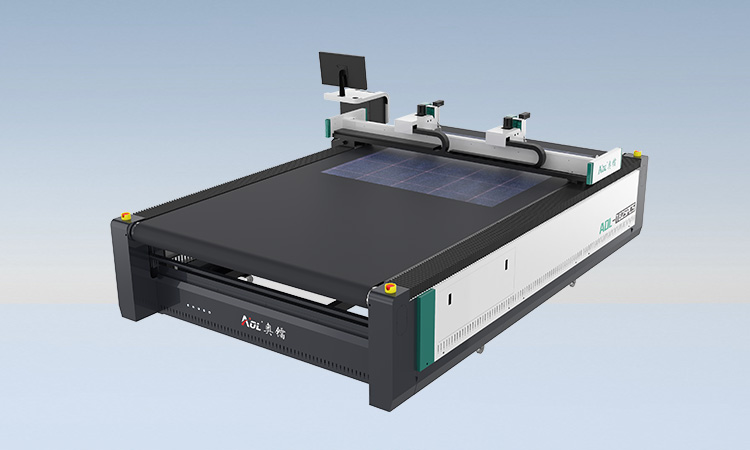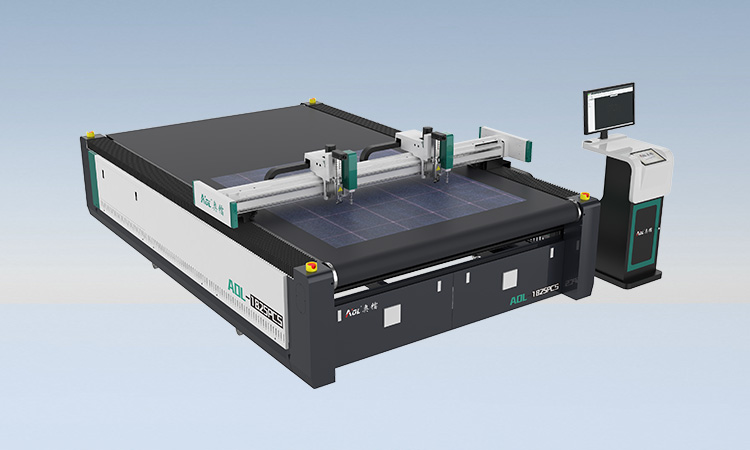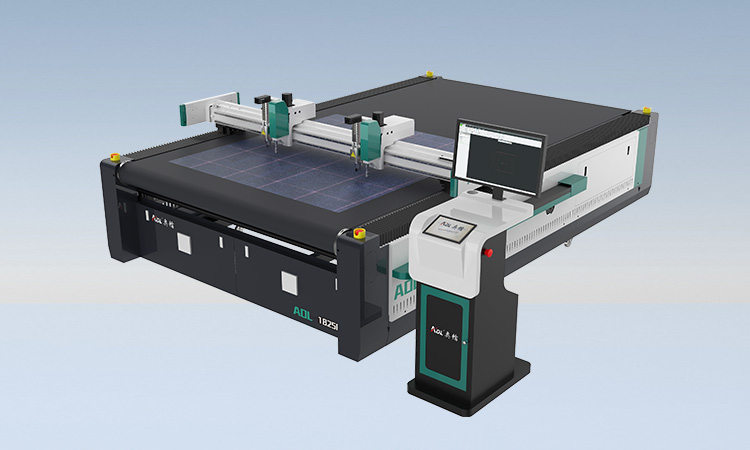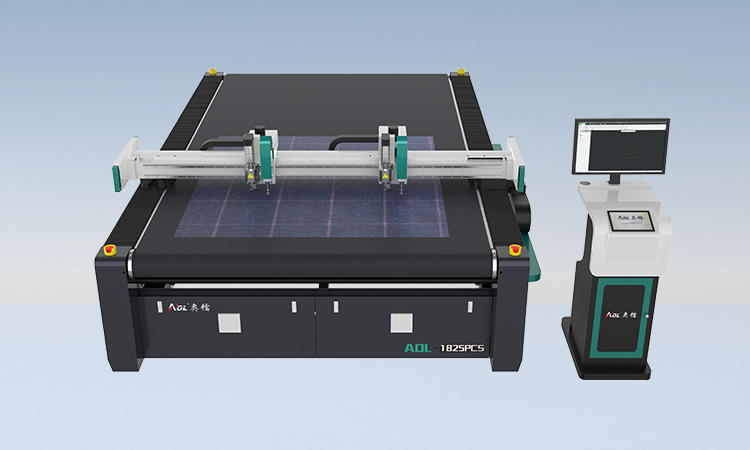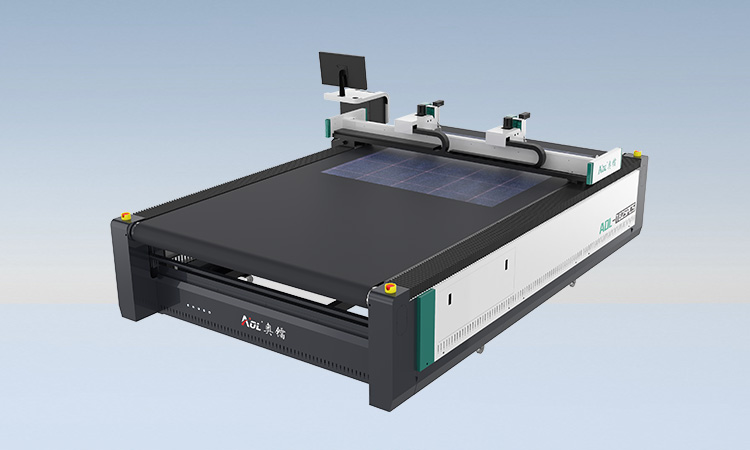 Textile clothing industry cutting machine
AOL textile clothing industry cutting machine has the functions of strip-to-grid, pattern-aligned, net collar cutting, single-multi-layer mixed secondary tailoring on the same platform, intelligent lining and lining cutting, etc., which greatly improves the production efficiency of the clothing fabric industry.
  AOL textile clothing industry cutting machine is mainly for automatic and intelligent cutting of clothing fabrics. Common materials include: chiffon, denim, leather, grain velvet, sheep shearing, fur, various fabrics, paper/cardboard/plastic material samples Etc., equipped with a variety of tools such as vibrating knife, pneumatic knife, wheel cutter, drag knife, double round punch, spray line, painting pen, etc., with self-developed special software, it can realize cutting, punching, and spray line at one time. The simple and efficient tool seat quick change system can quickly change different tools, blades and punching needles, and the operation is simple, convenient and fast.
  Compared with traditional manual cutting and laser cutting, AOL clothing fabric cutting machine does not need molds, saves time and labor, has accurate sample cutting, smooth edges, no yellowing and coke, no powder dust, smoke, odor, safety and environmental protection. The features of easy maintenance and low use cost greatly shorten the development cycle of user styles and solve the problem of difficult production and processing of small batch orders.
Textile clothing industry cutting machine parameters:
Technical parameters / model
AOL-1625
AOL-1825
Effective working area
1600x2500mm
1800x2500mm
Multi-function tool
Pneumatic knife, projector,vibrating knife,Round knife
safety devices
Using infrared sensors,  responsive, safe and reliable,Anti-collision system,Four corner emergency stop button
Cutting speed
300-2000mm/s
Cutting thickness
≤50mm Other thicknesses can be customized according to the material
Applicable materials
Cloth, home textile fabric, tarpaulin, lace cloth, Oxford cloth, non-woven fabric, etc.
Material fixing method
Vacuum partition adsorption
Transmission port
Network port
Transmission system
The X\Y axis is divided into two kinds of rack or belt
rated power
11kw
Rated voltage
380V±10%/220V±10% Optional  
Control System
Chinese and English LCD touch screen   
Operating environment
Panasonic servo motor, high precision helical gear reducer, Taiwan Yintai rail, Germany Henryan rack, Omron sensor, Schneider low-voltage appliances, Taiwan Mingwei power supply, Germany cable, 42mm adsorption platform, automatic feeding, Taiwan rail, energy saving fan
Support file format
AI、PLT、DXF、PDF、 PCE、XML
Overall size
3600*2400*1250
3600*2600*1250
Related introduction of cutting machine for textile and garment industry:
1. Intelligent punching: Through servo control and die-type punching technology, precise positioning can be used to punch small areas of leather, PU and other materials for pattern punching, and patterns of different shapes and sizes can be punched out by replacing punches
2. Intelligent line drawing: using imported high-speed jet-line nozzles and high-temperature disappearing ink to cut, position, mark and draw lines on materials such as shoe uppers, luggage leather, mesh cloth, etc., no need for plate making, high efficiency, precision, and ink saving

3. Intelligent nesting typesetting system: the graphics can be graded and modified in the software, and intelligently typeset, the typesetting is reasonable, and the material can be automatically laid according to the size of the typesetting to minimize material waste

4. Small visual positioning function: accurate positioning through high-definition CCD scanning the MARK point on the workpiece, and accurate sleeve cutting of the garment fabrics with spray patterns

5.Intelligent table compensation function: The flatness of the table is detected by a high-precision distance detector, and the plane is corrected in real time through the software to ensure high-quality cutting results.

6. Automatic feeding device: automatic cutting of the whole roll of material
The function of cutting machine for textile and garment industry:
1. Table compensation function
The flatness of the table is detected by a high-precision distance detector, and the plane is corrected in real time through the software to achieve a perfect cutting effect.
2. Control system
Adopt high-performance multi-axis motion control system, easy maintenance, low cost, and provide personalized development services
3. Working mode
Adopt servo motor to drive the screw control mode, which can be linked with the computer to preset the depth and pressure of the knife according to different needs.
4. Graphic design software integration
Professional graphic design software that simplifies the workflow of structural and graphic designers
5. Overcut optimization
The self-developed CAM software is used to systematically optimize the physical overcutting phenomenon of the tool, restore the graphic outline to the greatest extent, and bring customers the perfect cutting effect
6. Automatic tool setting
Fast and simple automatic tool setting system, using fiber laser sensor to accurately detect the tool, greatly improving the tool setting efficiency
7. Graphic positioning
High-definition CCD camera and automatic boundary recognition function, realize automatic positioning and sleeve cutting of various materials, quickly and accurately cut various complex special-shaped graphics, and eliminate problems such as inaccurate manual positioning and printing deformation. With the automatic transmission function, it can achieve efficient and accurate nest cutting of large-format pictures, and improve the cutting quality and output.
8. Front and back sleeve cutting
Combined with the boundary recognition function, the material boundary can be quickly identified and positioned, and the front and back graphics can be nested.
9. Data interface
The network interface can realize remote upgrade and maintenance, the transmission speed is fast and the distance is long, and it can be transferred with multiple computers at the same time.
10. Automatic identification of material thickness
Automatically detect the thickness of the material, no need to manually measure and then record the thickness data to the software
AOL Services:
1) Three-year free warranty (except wearing parts), free inspection and maintenance of main parts.
2) Provide lifetime free technology upgrade service
3) Wearable parts (eg blades, bench covers) are always available at cost when needed.
4) Free operation training in our factory. If there is not enough time, we will send detailed training videos.
5) 24-hour online service, providing free technical support in different languages.
6) On-site technical support is available when needed.
7) AOL accepts unreasonable returns within 7 days after receiving the goods.
Packaging of the cutting machine:
1. Outer packing: Standard sea export plywood box.
2. Inner packaging: stretchable film and plastic film to prevent moisture.
If you have special requirements, we can negotiate amicably.
If you would like to know more about our machines, please contact us and we will have dedicated staff to answer all your questions.