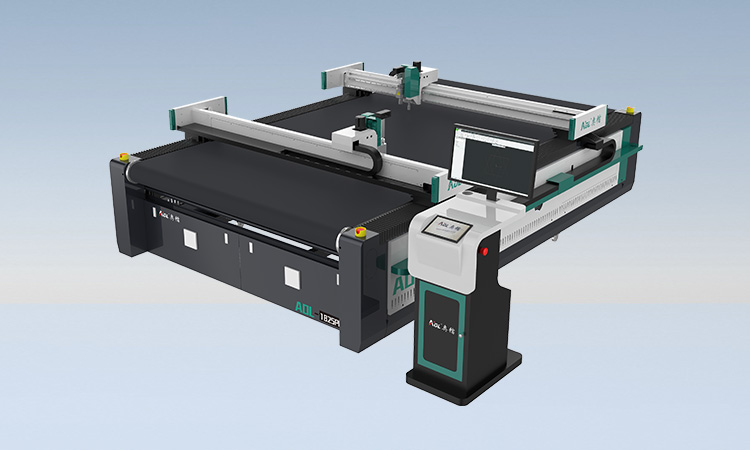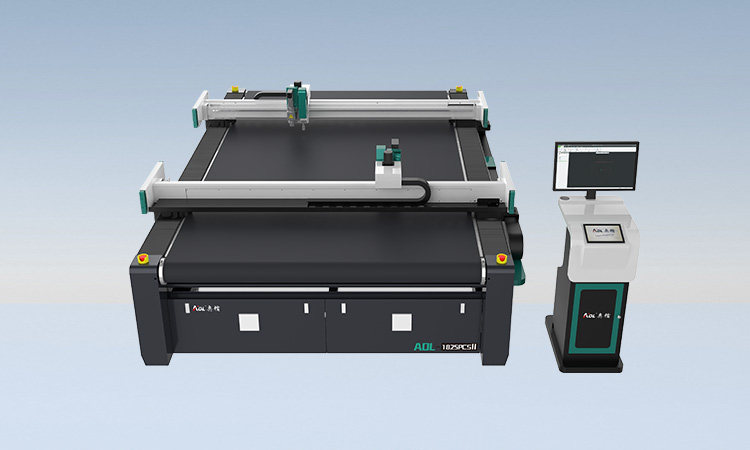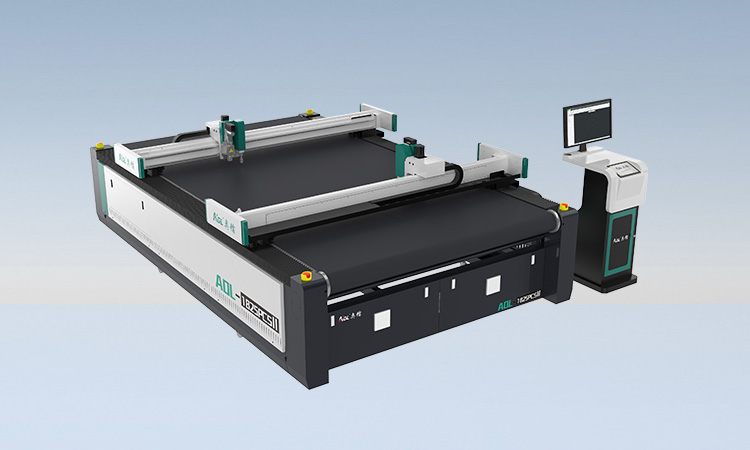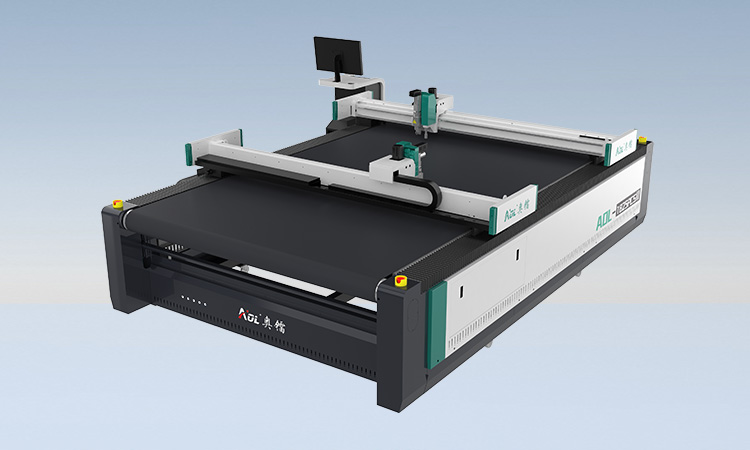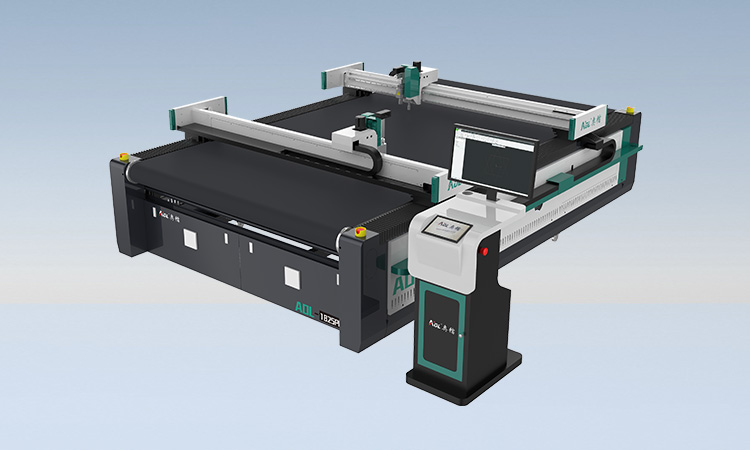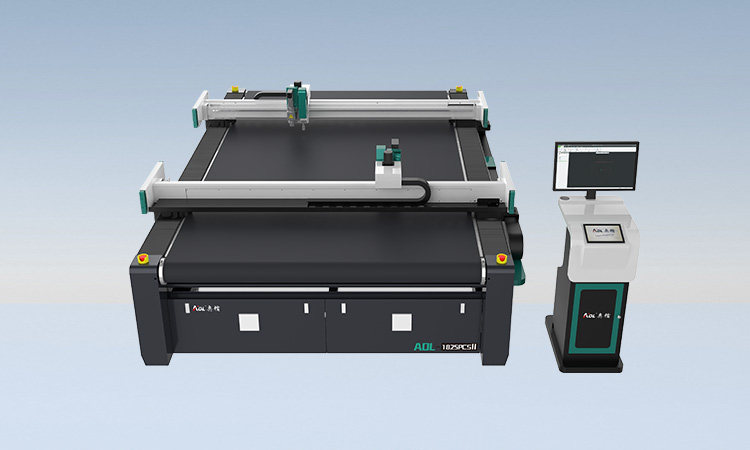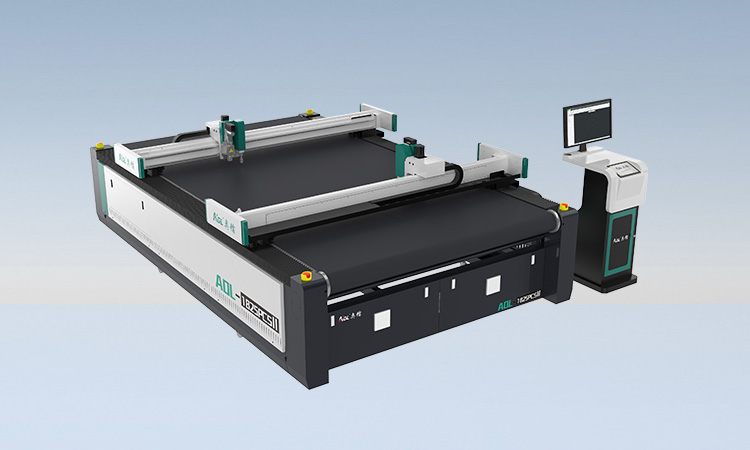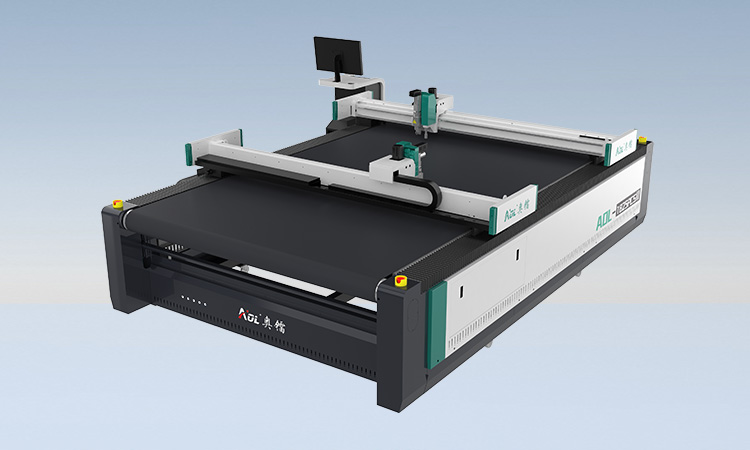 digital cutting machine for gasket cutting
The gasket digital cutting machine is equipped with unique zone adsorption technology and double safety protection system, making AOL CNC cutting machine more trustworthy, saving labor and raw materials by more than 30% each year, greatly improving the competitiveness of products.
Advantage of  gasket digital cutting  machine
1. AOL CNC cutting system is equipped with a unique nesting typesetting system, which can easily solve the cutting of multiple types of patterns on gaskets.
2. Japan's Panasonic servo system improves production efficiency by three times.
3. The whole machine is equipped with anti-static system and infrared induction anti-collision, which greatly protects the safety of workers
4. AOL CNC system independently researches and develops a one-key import system to reduce the technical requirements for staff.
5.Laser projection realize projecting to any position you want ,automatic cutting, small pieces material leftovers could be recycled
6.Unique multi-zone technology, the adsorption capacity is increased by more than 5 times
7.Gasket digital cutting machine has won 5 patents technology certifications at home and abroad.
Application industry for gasket digital die cutter
The gasket digital cutting machine is widely used in the gasket industry. It can achieve perfect cutting for standard patterns as well as irregular patterns. It can cut most materials of sealing materials to ensure high-quality and high-precision cutting.
In addition to the cutting of gasket materials, the gasket digital cutting machine can also be applied to the advertising packaging industry, textile industry, carpet industry, leather industry, automotive interior industry, composite materials and other flexible materials industries. It has different properties for different properties. The matching of knives helps to better cut flexible materials.
Parameter of  gasket digital cutting  machine
    Model
AOL-1625DCS
AOL-1825DCS
    Working area
2500×1600mm
2500×1800mm
    Machine size (mm)
3600*2400*1250
3600*2600*1250
    Rated power
11KW
    Fixed mode
Vacuum adsorption, automatic feeding type table
    Multifunctional head
Pneumatic knife, Milling tool, projector,vibrating knife
    Tool configuration
Multiple cutting knives
    Safety device
Using infrared sensors,  responsive, safe and reliable
Anti-collision system
Four corner emergency stop button
    translational velocity
800-2000mm/s
    Cutting speed
0-1800mm/s(according to different cutting materials)
    Cutting thickness
≤50mm(according to different cutting materials)
    Cutting materials
Asbestos, graphite, rubber, silica gel, PTFE, expanded PTFE, pvc, cork, etc.
    Repeated accuracy
±0.1mm
    Capacity
2GB
    Transmission system
Precision grinding rack drive
    Instruction system
AI、PLT、DXF、PDF、 PCE、XML
   Other configuration
Panasonic servo motor, high-precision helical gear reducer, Taiwan Yintai guide rail, German Henry Ann rack, Omron sensor, Schneider low-voltage electrical appliances, Taiwan Mean Well power supply, German cable, 42mm adsorption platform, automatic feeding, Taiwan guide rail, energy-saving fan,
AOL service
1) Three-year free warranty (except for wearing parts), and free main parts
2) Provide lifetime free technology upgrade service
3) Wearable parts (such as blades, workbench covers) are always available at cost when needed.
4) Free operation training is conducted in our factory. If there is not enough time, we will send detailed training videos.
5) 24-hour online service, providing free technical support in different languages.
6) On-site technical support can be provided when needed.
packaging details of gasket cutter
1. Full film packaging machine (to prevent moisture)
2. Anti-collision edging
3. Wooden box packaging (standard specifications)
4. A warning sign is posted on the packaging box
5. Negotiate and communicate the packaging method
     AOL CNC Equipment Co., Ltd. is a high-tech enterprise specializing in the development, manufacturing, sales and after-sales service of flexible material cutting and laser cutting machines. It mainly includes CNC intelligent blade cutting machines, laser fiber cutting machines, laser marking machines, etc. Various types of cutting machines can meet the cutting processing of metal materials and flexible materials of different materials, and are widely used in advertising packaging, composite materials, carpet industry, clothing textiles, automotive interiors, and leather industries. In addition, AOL also has an independent CNC cutting machine brand AOYOO.
    AOL CNC Equipment Co., Ltd. is a high-tech industry in China and an AAA-level credit enterprise. The product quality has undergone multiple tests and the after-sales system is complete. It has provided reliable CNC cutting machines for more than 8,000 users worldwide, and has provided many users with Professional industry cutting assembly line solutions.
AOL is committed to multi-industry flexible material cutting solutions for global users. The annual output of high-quality CNC cutting machines in the AOL factory can reach 1,000 units, and each machine is provided with a three-year warranty service.
Click on the message and wait for the professional's reply
AOL Media
WhatsApp /微信:0086-18560162709
youtube:https://www.youtube.com/channel/UCDiNQSjBR5DsAX9QfkWF7AA
Website:<<click to jump>>
Facebook:<<click to jump>>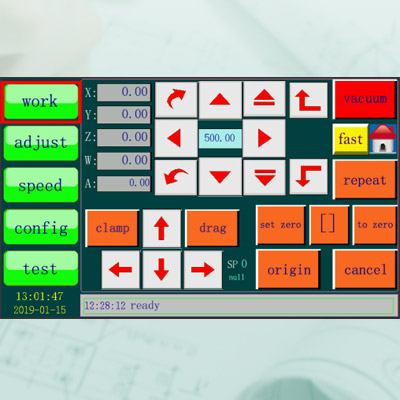 Control System
Independent research and development of human-machine interface operating system, humanized design, intelligent recognition of knife cutting, fast capture of cutting targets.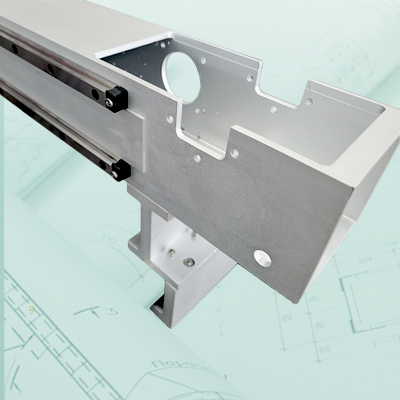 Accurate and Stable Working Table
The cutting table is build with aviation aluminum with honeycomb structure inside; sturdy, high-precision, stable for long-term running.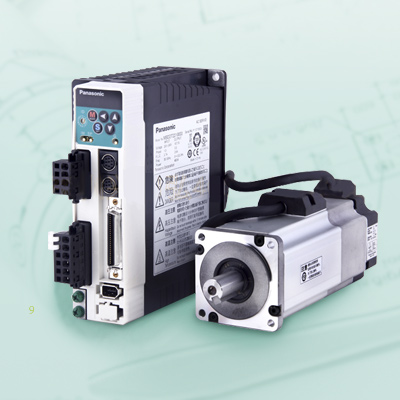 Imported Servo Motor
The machine with more stable performance and higher precision.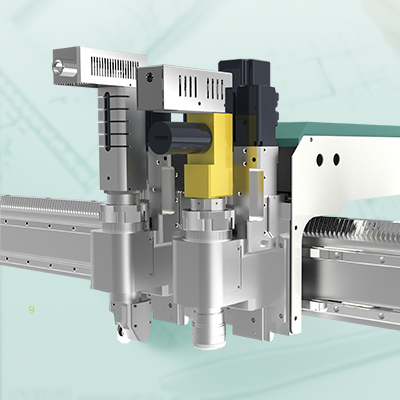 Modutarized Cutting Tools
The modularized design ensures the cutting tools can be used on all the AOL product series.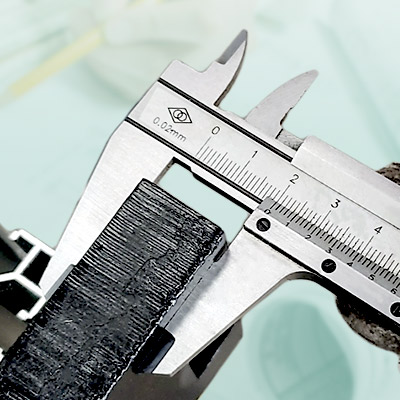 The Thickness
The thickness of machine some steel plate parts is 12-20mm, it ensures the machine will be non-deformation permanently.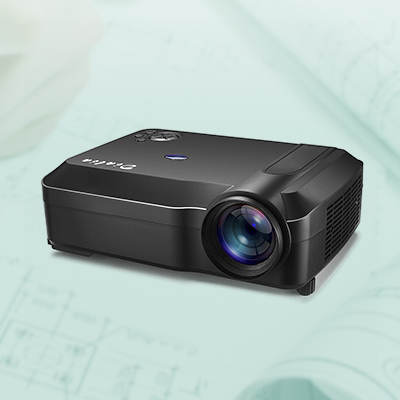 Projection Positioning System
The user can also place the irregular material into the projection area for the alignment cutting, which greatly improves the utilization of the material.
Oscillating Knife Tool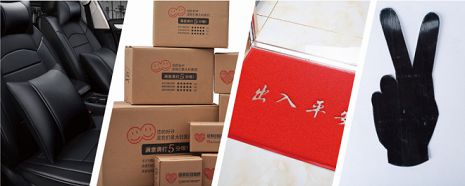 The Electrical Oscillating Tool is super suitable for cutting the material of medium density.Coordinated with various kinds of blades, applied for cutting different materials.

Cutting materials: kt board , foam board, honeycomb board, car mat, seat cover, corrugated, cardboard, kt board, gray board, composite materials, leather, corrugated box.
Creasing Wheel Tool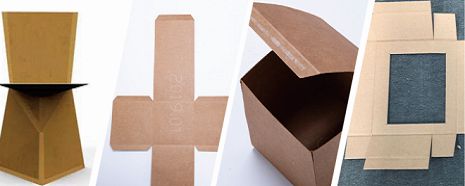 A selection of creasing tools allows for perfect creasing on the corrugated materials. Coordinated with the cutting software,the tool can cut the corrugated material along its structure or the reverse direction to have a finest creasing result,without any damage to the corrugated material's surface.

Cutting materials: Packing box, folding card, corrugated Board, carton,etc.
V-CUT Knife Tool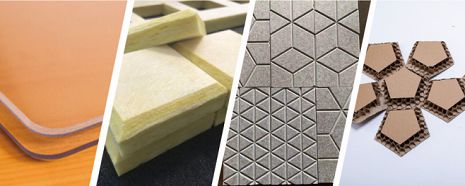 Specialized for V-cut processing on corrugated materials,AOL v-Cut Tool can cut 0°,15°,22.5°,30°and 45°.

Cutting material: soft board , kt board , corrugated board, packing box, slotting of corrugated boxes, medium-density material v cuts, carton packaging, hard cardboard, gift boxes,etc.
Kiss-CUT Knife Tool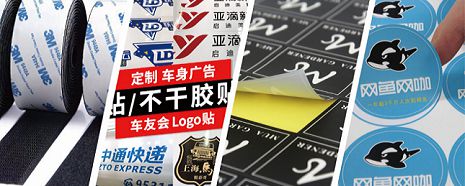 The kiss cut tool is mainly used for cutting vinyl materials (labels).aol cut makes it possible that the tool cuts through the top part of the material without any damage to the bottom part.It allows high cutting speed for material processing.

Cutting materials: sticker, car sticker, reflective materials, self-adhesive vinyl, label, vinyl, engineering reflective film, double-layer adhesives, etc.
Pneumatic Knife Tool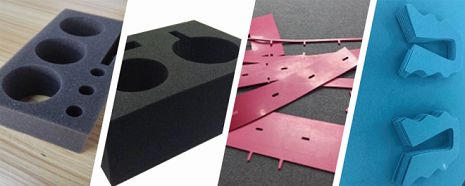 Driven by compressed air,Pneumatic Knife Tool with 6mm stroke, is especially for cutting hard and compact materials. Equipped with different kinds of blades,it can make different process effect.The tool can cut the material up to 110mm by using specialized blades.

Cutting materials: asbestos board, asbestos free board, PTFE, rubber board , fluorine rubber board, silica gel board, graphite board, graphite composite board, etc.
Milling Knife Tool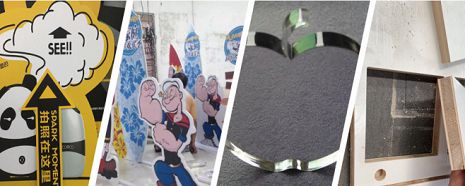 With imported spindle,it has a rotating speed of 60000 rpm.The router driven by high frequency motor can be applied for cutting hard materials with the maximum thickness of 22 mm.The customized cleaning device cleans up the production dust and debris.The air cooling system extends blade life.

Cutting materials: acrylic MDF board, pvc board, display stand, etc.
Drag Knife Tool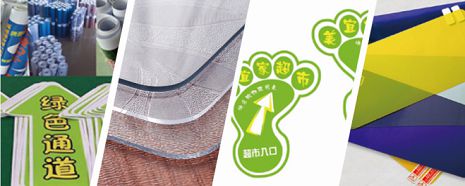 AOL drag knife tool can perfectly cut materials with the thickness up to 5mm. Compared to other cutting tools,it is the most cost-effective one that allows for the fastest cutting speed and lowest maintenance cost.

Cutting materials: backlit film, sticker, pp paper , folding card, flexible material less than 3mm thickness, advertising materials KT board, flexible plastics, mobile phone film, etc.
Driven Rotary Knife Tool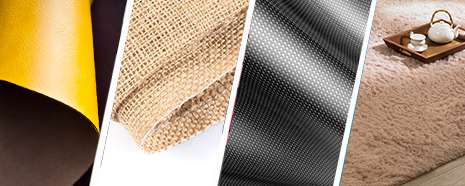 Driven Rotary Tool puts the materials by the high-speed rotating blades driven by the servo motor.The tool can be installed with circular blades and decagonal blades .etc which are especially suitable for cutting woven materials.

Cutting materials: textiles, canvas, leather, fabric, carbon fabric, glass fabric, carpet, blanket, fur, woven fabric, composite double, multi-layer material, flexible plastic, etc.