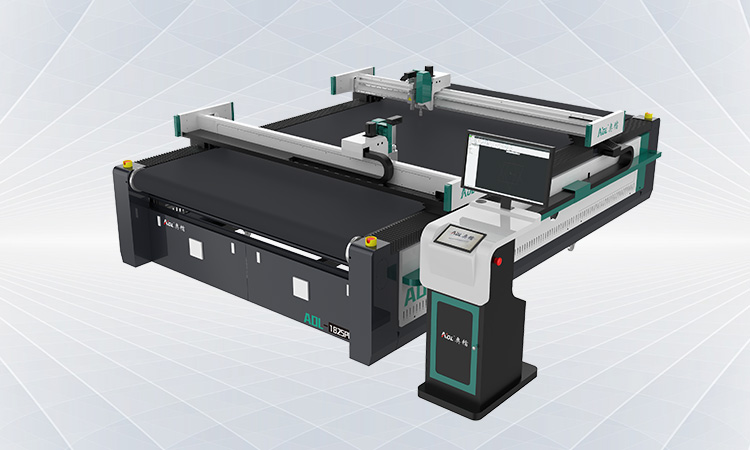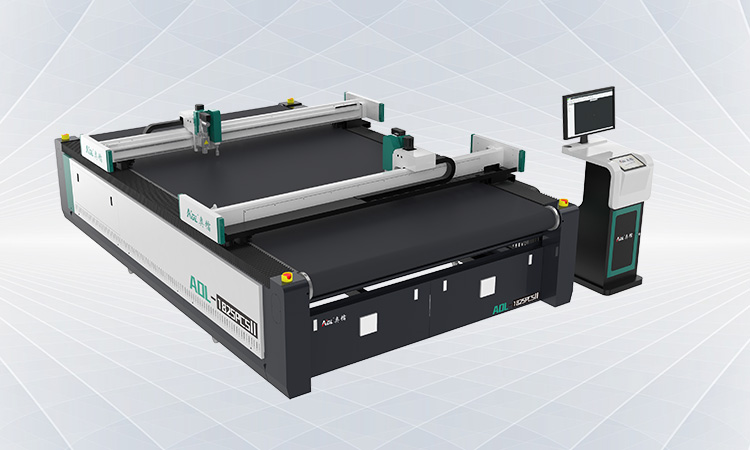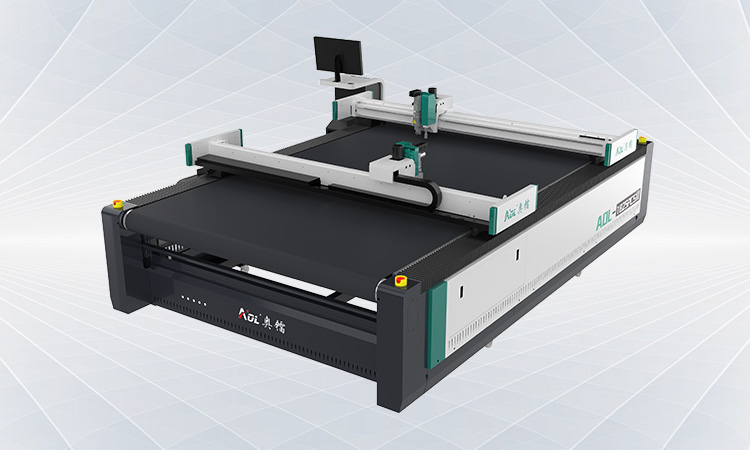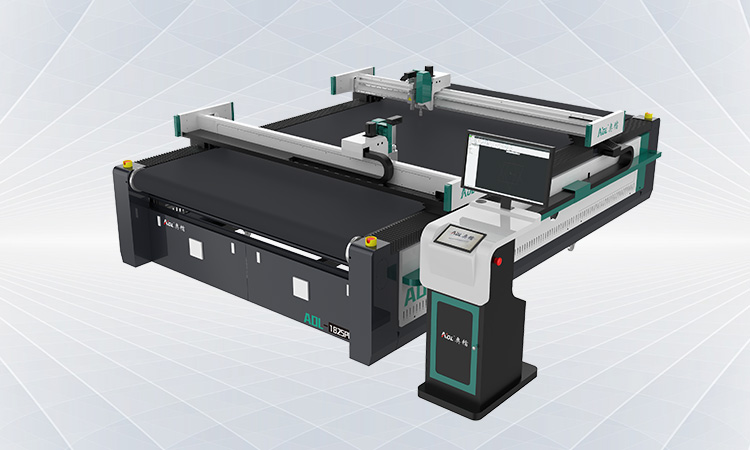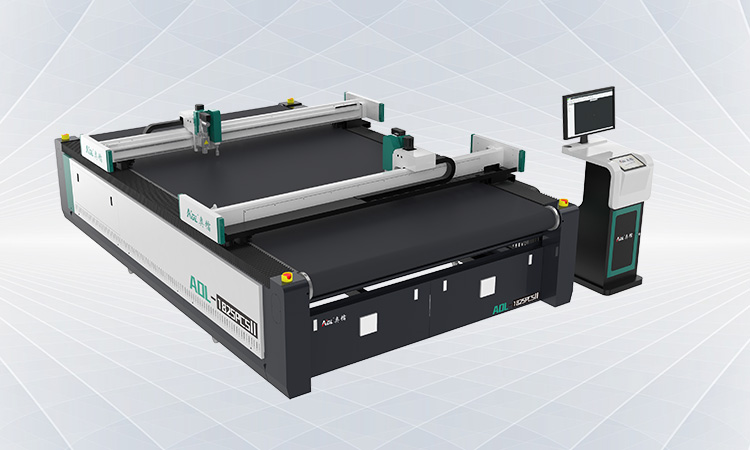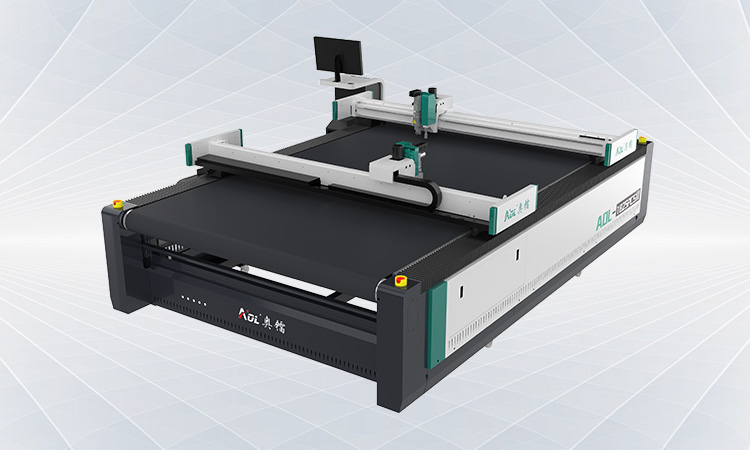 CNC acoustic panel cutting machine, Intelligent control high efficiency
The acoustic panel cutting machine is an automatic cutting equipment, one-click import of the pattern, special-shaped cutting, precise positioning, automatic knife setting, helping you to produce high-capacity and high-quality output, improve the competitiveness of production products, and reduce the differentiation of similar products.
  Acoustic panel is a kind of glass fiber. It is a material that melts glass fiber to form a cotton-like material. Its chemical composition is glass. It is an inorganic fiber. It has good molding, low bulk density, high thermal conductivity, thermal insulation , Good sound absorption, corrosion resistance, stable chemical properties. Sound insulation cotton is commonly used in the sound insulation and thermal insulation industries. 
  The acoustic panel cutting machine is a professional cutting equipment for cutting glass fiber materials, mainly for cutting sound insulation cotton materials with a thickness of 0.5mm-50mm. The cutting edge has no burrs and high cutting accuracy. It is currently the most popular glass fiber cotton secondary forming manufacturers one of the cutting equipment.
Common material types of acoustic panel:
  Polyester fiber acoustic panel: It is a kind of material with sound-absorbing function made of polyester fiber as raw material by hot pressing. Strict place.
  Then there are PET acoustic panel felt, cotton fiber acoustic panel board EVA foam, natural cotton fiber acoustic panel board, rock wool thermal insulation material, acoustic fiberboard, etc. 
Advantages of acoustic panel cutting machine:
1. Efficient cutting:Independently develop and design CAM software, intelligent software compensates, optimizes the cutting path, Increase cutting efficiency by 30%
2. High precision:Using high-quality linear guide, the accuracy error is ±0.1mm.
3. flexible tool:The soundproof cotton cutting machine can be equipped with a variety of knives for material cutting in different industries, with a variety of cutting methods, such as: bevel cutting, slotting, etc.
4. Save power:Power-saving variable frequency vacuum adsorption, saving more than 30% of power.
5. High security:Anti-static interference and soft start device to protect the safety and stability of the equipment.
6. safety protection:Infrared induction safety device ensures the safety of the operator during the high-speed movement of the machine and avoids the loss of cutting materials.
 Feature of CNC acoustic panel cutting machine
 1、Acoustic panel cutting machine adopts an integrated welding bed, high temperature heat treatment, release thermal stress, ensure that the equipment will not be deformed for a long time, and the stability and accuracy are better.
  2、The work surface can be selected from three standard models: 1.6m*2.5, 1.8m*2.5m, 2.1m*2.5m, and supports customization.
  3、The working table is made of 42mm thick aviation alloy, and the feeding system is made of Dutch imported feeding felt, with a thickness of 4mm, long service life and better air permeability.
  4、The power system of the acoustic panel cutter adopts the Japanese Panasonic servo brushless motor, with the self-developed AOLCUT cutting system, the cutting accuracy and operability are better.
The parameters of acoustic panel cutter:
Technical parameters / model

AOL-1625

AOL-1825

Effective working area

1600x2500mm

1800x2500mm

Multi-function tool

Oscillating knife, round knife, pneumatic knife, drag knife, half cutting knife, press wheel, V-CUT Knife Tool, milling cutter, drawing marker pen, ink cartridge inkjet, cursor positioning, camera positioning edge patrol

safety devices

Four corners emergency stop, anti-collision safety device using infrared induction, safe and reliable

Cutting tool configuration
Oscillating knife、V-CUT Knife Tool
Cutting speed

200-400mm/s

Cutting thickness

9mm-18mmOther thicknesses can be customized according to the material 

Applicable materials

polyester fiber acoustic boards、PET Acoustic Panel Felt、cotton、fiber acoustic panels EVA foam、Natural cotton fiber soundproofing absorbs panels、rock wool Heat preservation and heat insulation material、Acoustic Fiber Panel etc

Material fixing method

Vacuum partition adsorption 

Transmission port

Network port

Transmission system

The X\Y axis is divided into two kinds of rack or belt

rated power

11kw

Rated voltage

380V±10%/220V±10% Optional

Control System

Chinese and English LCD touch screen

Operating environment

Operating environment Temperature 0-40°C Humidity 20%-80%RH 

Support file format

AI、PLT、DXF、PDF、 PCE、XML

Overall size

3600x2400x1200mm

3600x2600x1200mm

Other configuration
Panasonic servo motor, high precision helical gear reducer, Taiwan Yintai rail, Germany Henryan rack, Omron sensor, Schneider low-voltage appliances, Taiwan Mingwei power supply, Germany cable, 42mm adsorption platform, automatic feeding, Taiwan rail, energy saving fan
About AOL company
  AOL is a famous CNC equipment factory. AOL mainly produce CNC Knife Cutting Machine, Cutting Plotter, CNC Cutting Table and so on. We, as a high-tech enterprise, engaged in research, manufacture and sell the CNC cutting machine and relevant products.

  Widely used in advertising packaging, composite materials, carpet industry, clothing textiles, automotive interiors, and leather industries. In addition, AOL also has an independent CNC cutting machine brand AOYOO.
  AOL has gained CE certificate, FDA and ISO certificate. Company successfully produce AOL series products of more than 50 sorts, which enjoy good reputation and support.  Excellent quality and fast service makes our products spread all over the world as Europe, America, Middle east and South of Asia.
  AOL CNC Equipment Co., Ltd. is a high-tech industry in China and an AAA-level credit enterprise. The product quality has undergone multiple tests and the after-sales system is complete. It has provided reliable CNC cutting machines for more than 8,000 users worldwide. Provide professional industry cutting assembly line solutions for many users.
Why choose our AOL acoustic panel cutting machine?
  AOL is an industry-leading brand with 14 years of industry experience. We have an independent factory, which can fully realize the process of design, production, sales, delivery and after-sales service. AOL acoustic panel cutting machine is fast, easy to operate, and perfectly realizes the cutting shape you want. The whole process is automated without manual intervention. It adopts high-efficiency and high-precision servo motors, which can realize intelligent cutting faster and more accurately. Perfect pre-sale and after-sale service, pre-sale tailor-made plans for you according to the specific situation of your cutting materials, and one-to-one after-sale guidance to ensure that you can master the operation method as soon as possible.
Customer Reviews:
  If you encounter problems with industry material cutting, click to contact us, we can provide you with free consultation and consulting services!